12:45 p.m. Hello from the Delta Vancouver Airport hotel in Richmond, B.C., where talks between the B.C. Teachers' Federation and the B.C. Public School Employers' Association are ongoing. Little news to share so far; fleeting sightings of BCTF President Jim Iker, BCPSEA's chief negotiator Peter Cameron and mediator Vince Ready are being tracked and tweeted by media with the feverish curiosity of Loch Ness watchers. Mr. Iker has reportedly said the parties are going over proposals today, and there are whispers of a make-or-break announcement coming sometime this afternoon. Stay tuned.
1:30 p.m. Mr. Ready and Mr. Cameron spotted walking back and forth between two rooms. There are about a dozen members of the media here, and a mic stand is set up. Everyone seems to feel something significant will come out of today's talks, but still no concrete updates.
2:55 p.m. Mr. Ready and Mr. Cameron walk by. The former smiles and waves; the latter does not. Mr. Cameron seems tired. Media wait with bated breath.
3:30 p.m. A flurry of almost-activity. A blazer-less Vince Ready wanders outside the front of the hotel, sending broadcast media in a frenzy. He is on the phone. When he hangs up, he walks over (on his way back into the hotel) and media ask him if we can expect an update today. "It's too early to tell. I'm not going to say anything," he replies. Someone asks who he was on the phone with. He says his grandmother. Chuckles abound.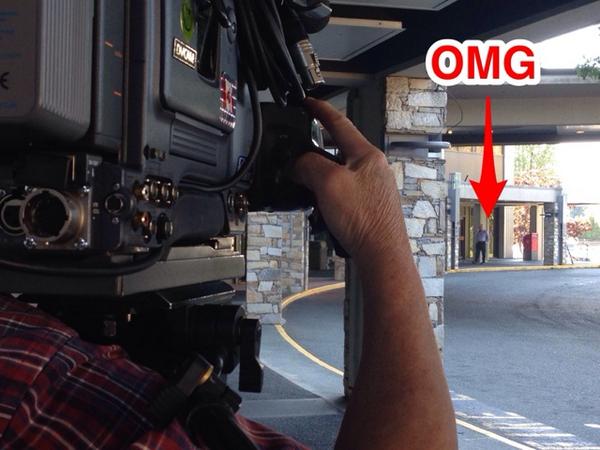 Vancouver school trustees Ken Denike and Sophia Woo are here. I asked why and Ms. Woo said she is eager to see what happens. Mr. Denike seems convinced "today's the day."
7:00 p.m. About one-third of media have cleared out and many of the others have traded off with coworkers. Some plan on sticking around until midnight, 1 a.m. One radio reporter tells me she's here until 2 a.m., and if they're still talking, she has to call in a replacement to take over. That's some serious commitment.
There have been no updates since the last one — not even a Vince Ready sighting. Am told they're eating now, and a government staffer is being replaced with another, which suggests a long night ahead. One BCed insider said he was pretty sure there would be a decision today, but of course, nothing's for sure.